Fixing a Cracked Screen on LG G2 | G3 | G4
A series of high-end smartphones launched by LG starting in 2013, the LG G Series is LG's answer to Apple's glorious iPhone 6 and Samsung's Galaxy Note Series. LG originally introduced the G brand name for the LG Optimus G smartphone, but soon decided to discontinue the Optimus brand name and brand their star series as just "G". In August 2013, the LG G2 was released.
With a gorgeous 5.2' screen, a fabulous resolution of 1080×1920 pixels, a 2.26GHz quad-core Qualcomm Snapdragon 800 processor, 2GB of RAM, 16GB of ROM, a 13 MP back camera and a 2.1 MP front camera and Android 4.2.2 Jelly Bean pre-installed, the LG G2 makes for an attractive grab. Unfortunately, however, there is no such thing as a free lunch. And while the LG G2 comes for a hefty $250, it still comes with a catch.
Actually, two of them. Firstly, the LG G2 (G2 Models D800, D801, LS980 & VS980), G3 (G3 Models D850, D851, D855, VS985 & LS990)  and G4 (G4 Models H810, H815, VS986, LS991 & F500L), with their superior features and undeniably good hardware, come with a phony, cheap plastic back cover that only looks like a metal chassis. This means, even with normal use and no accidental damage, several unhappy customers have reported that the phone cover is prone to cracking over time, thereby spoiling the expensive feel of the great device. The cracks are said to appear in two locations, surrounding the two respective ports for the headphone jack and the micro USB charger. Due to repeated insertion of the headphone jack and the USB charger, minute cracks begin appearing near the ports, destroying any aesthetic beauty the phone may possess. Customers have blamed this on the rather humble material used for the phone's back case, but the spokesman of LG has come up with a wholly different theory:
"This is in no way related to product design or product quality and only affects a limited batch of devices."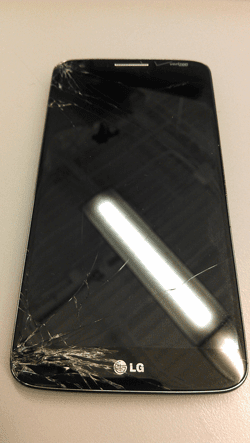 But that isn't all of it. Wait till we tell you of the second issue. Unlike iPhone 6 or popular Samsung smartphones, whose front glasses only serve to secure the digitizer and LCD underneath, the LG G series of phones come with a single screen which serves as the front glass, digitizer and LCD. Therefore, should your LG G2, G3 or G4 smartphone be faced with an accidental crack, it is rendered absolutely useless, with the multi-touch no longer working! Thus, a costly screen replacement is the only way left!
Unless covered by a warranty, the LG service personnel will probably charge you a jaw-dropping price for a simple screen replacement! The sad thing is, however, the official LG servicing centers are probably the only ones you can trust with your expensive smartphone, and a third-party repair seems too scary to spare. So, what do you do? Do you let LG rob you in broad daylight for a simple screen replacement? Or do you let an amateur repair person experiment with your phone? Thankfully, there is a third option.
At RockIT Repairs, we have professional repair personnel who are trained in skillfully replacing the screen of your LG G2, G3 or G4 smartphone. It won't risk your smartphone, and, we won't charge you a penny more than what's due. Further, we will have your LG smartphone shipped back to your address on the same day. Isn't that a sweet deal? Give us a call now at (540) 412-8824!