Ah, the iPhone. It has been one of the frontrunners of the smartphone revolution since the release of the original iPhone in June of 2007, and with the release of the iPhone 5 in September 2012, it continues to be one of the most sought-after cellphones around. No matter where you are, there is bound to be at least one person with their iPhone out, and you'll probably hear the familiar chime of someone getting a message on one, coming from a pocket or purse in your vicinity.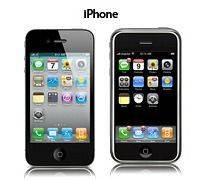 The original iPhone set quite a few design precedents that are still visible in the current models, such as button placement, as well as what has been one of the iPhone's biggest innovations, the touch-screen that its user interface is built around. It also introduced us to the virtual keyboard, and can be synced with iTunes to play music from your library, and it allowed one to easily access the internet for browsing, or to check e-mail and social networking sites.
Each iPhone is released with its own operating system, the original being version iPhone OS 1.0.  The iPhone 3G introduced the ability to record videos, as well as take pictures, and 3G cellular network capabilities and its aGPS. The iPhone 4 brought us Siri, the "retina display", and a front-facing camera. The sixth generation iPhone 5 offers 4G cellular network capabilities, the iPhone operating system iOS 6.0, and a 4-inch retina display, which is a good bit larger than the previous 3.5-inch screen the older models features. It's also thinner, lighter, and offers faster processing than the previous iPhones.
It's never too late to jump on the iPhone bandwagon, and with news already being leaked about the iPhone 5S, you probably won't have to wait long to stand in line to become one of the first owners of the latest model.