Smartphones have seamlessly woven themselves into the very fabric of our daily lives. From staying connected with loved ones to managing work on-the-go, we rely on our phones more than ever. But what happens when these precious devices face a hiccup? That's where RockIT Repairs comes into play with their expert phone repairing services. Here's why you should trust us with your device: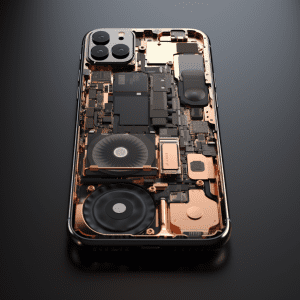 Experience and Expertise: RockIT Repairs isn't a new kid on the block. With years of experience, our team of technicians has tackled a plethora of phone issues. From shattered screens and malfunctioning buttons to complicated internal glitches, our experience ensures that we can handle all your repair needs.
Quick Turnaround Time: We understand the urgency. In today's fast-paced world, being without your phone for days isn't an option. At RockIT Repairs, our goal is to get your phone back in your hands as swiftly as possible without compromising on the quality of repair.
Use of Authentic Parts: One of the biggest concerns when it comes to phone repairing services is the authenticity of the parts being used. At RockIT Repairs, we prioritize your phone's health and longevity. We always use genuine parts that are compatible with your device, ensuring it works like new once repaired.
Transparent Pricing: No one likes unpleasant surprises, especially when it comes to repair costs. We pride ourselves on our transparent pricing model. Before we begin any repair, we give you a detailed breakdown of the costs, ensuring there are no hidden charges.
Data Security: Your phone is a treasure trove of personal information. From photos and contacts to sensitive financial information, we ensure all your data is safe and secure during the repair process.
Warranty on Repairs: Confidence in our service quality allows us to offer a warranty on most of our repairs. This means if you face any issues post-repair (related to the service provided), we've got you covered.
Exceptional Customer Service: Our commitment doesn't end when the repair does. We believe in forging lasting relationships with our customers. Our team is always available to answer any queries or concerns you may have, ensuring complete peace of mind.
Eco-Friendly Approach: In a world grappling with environmental challenges, we do our bit by ensuring our repair processes are eco-friendly. Instead of discarding damaged parts, we aim to recycle and reuse, reducing electronic waste.
Stellar Reviews: Don't just take our word for it. Check out the countless positive reviews from satisfied customers who've experienced our phone repairing services. These testimonials stand as a testament to our dedication and professionalism.
Convenient Locations: Accessibility is key. With convenient locations, dropping off and picking up your device is a breeze. And for those who can't make it in person, we also offer mail-in repair services.
When it comes to choosing a service for repairing your phone, it's crucial to pick one that ensures quality, trust, and affordability. RockIT Repairs ticks all these boxes and more. Our dedication to excellence is evident in the multitude of devices we've successfully repaired and the smiles we've brought to our customers' faces.
The next time you're in need of phone repairing services, remember RockIT Repairs. Trust your device with the best in the business, and experience hassle-free repairs that stand the test of time.