It's that time of year again! Apple is ready to roll out their newest models on September 10th, with their most-gossiped and guessed-about device being the iPhone 5C. The "C" is rumored to stand for "color", or possibly "cheaper", because the iPhone 5C will be offered in 5 different colors, at a fraction of the price as the original iPhone 5. If you need iPhone 5C front glass replacement parts, iPhone 5C batteries and other iPhone 5C parts, you have come to the right place.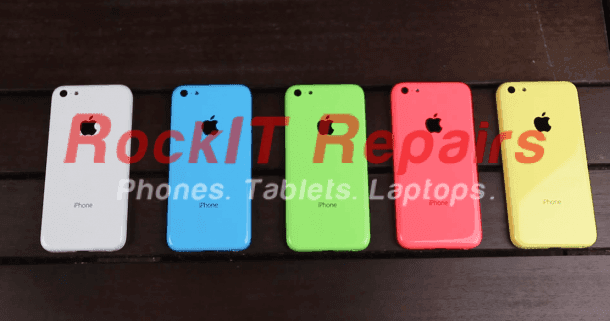 Colors? And Did You Say Cheaper?!
That's right- the iPhone will finally be available in something other than black or white! In fact, the iPhone 5C doesn't appear to be offered in black; instead, consumers will get to choose between blue, green, red, yellow, and white. It's body will be slightly different, with rounded edges where the original iPhone 5 is flat.
The biggest difference between the iPhone 5C and previous models is not color, but material. The reason this model will be cheaper has to do with the plastic housing it will feature on the back, a big change from the metal and glass casing that we have become used to from Apple products. Supposedly thinner and lighter than its other plastic-backed competitors, the integration of glass fibers into its ultra-thin plastic shell should also grant it more strength and durability than other similarly-constructed smartphones. (http://www.macrumors.com/2013/03/15/lower-cost-iphone-said-to-use-super-thin-plastic-and-fiberglass-shell-in-4-6-colors/)
Does the iPhone 5C Compromise on Capability?
When I heard the rumors of a cheaper, plastic-backed iPhone, I figured that it would simply be a brightly-tinted downgrade to a 4/4S-type technology, but it seems that the innards of the iPhone 5C are very similar to the original iPhone 5. Like the 5, the new 5C is said to be equipped with a dual-core CPU and tri-core GPU; other parallels to the original 5 are the new iOS7, and the 8 MP rear camera and 1.2 MP front camera.
Whether the iPhone 5C will feature the iPhone 5's 4-inch Retina display is still under debate (http://www.macrumors.com/2013/03/22/apples-lower-cost-iphone-to-lack-retina-display/), and there have been rumblings that the 5C will have a Qualcomm Snapdragon processor instead of the Apple-crafted A6 the original 5 has. (http://www.macrumors.com/2013/01/25/apple-to-use-qualcomm-processors-for-low-cost-iphone-for-emerging-markets/)
A Cheap, Unbreakable iPhone? In Colors?!
What? That is not at all what I said. Except for the colors part- It definitely comes in colors.
I don't know that I'd call the iPhone 5C cheap, either. Cheaper, maybe, but the lowest lowest estimate still runs at $350, and the highest at $550. Its price may align with the current iPhone 4/4S subsidized price of $99 w/ a two-year contract. (http://www.macrumors.com/roundup/iphone-5c/)
And unbreakable? Personally, I'm very optimistic about every "new-and-improved" model , but I'm never very surprised when technology breaks, either. So, should you acquire an iPhone 5C (they are expected to be released to the general public around September 20th!), and somehow manage to crack the screen, call RockIT Repairs at (540) 412-8824! Our competent, knowledgeable techs can easily take care of your iPhone 5C front glass replacement, quickly and at reasonable, honest prices!