Kindle Fire Charging Issues
Is your brand new Kindle Fire permanently battery dead? Has your Kindle Fire suddenly stopped charging? If so, you are not alone. Resources say that about 13-15% of Kindle Fires on every sales batch are returned due to customer dissatisfaction, all because of the same problem. Sadly, these figures don't even begin to describe the horrors. This 15% are just the fortunate few who have been able to get their brand new Kindle Fires replaced on discovering this fault. Sadly, a much larger number of customers end up facing the problem post expiration of warranty, after about a year of purchase or so, and are thereby rendered completely helpless with an insatiable urge for reading and a dead device to back it up. Amazon is yet to take any suitable action to solve this problem, resulting in a brimming number of frustrated customers, who are now sharing their grudge on the Kindle Fire forum.
So is there a way out? Or is your new Kindle Fire dead for better or for worse? Thankfully, there is an explanation, and even a cheap way out. The fault found in most Kindle devices is the Kindle Charging Port Defect, a surprisingly common and yet unnoticed problem found in Kindle Fires, caused due to an improper soldering in the motherboard. The symptoms are simple. Even after putting your Kindle Fire for charging for several long hours, you get back to find out their device is still presenting itself with a dead battery.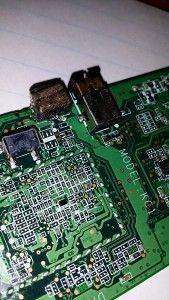 There are the usual troubleshooting tips, like holding the power button down for 30 seconds, then plug into charger to reset, or, cleaning port with 99% alcohol. But if your problem is real, this probably won't work. You may be able to temporarily run your Kindle by finding a sweet spot, on insertion of your charger into the port from a special angle or position, which miraculously causes it to charge up. But chances are, sooner or later, you will end up with the same problem. Your Kindle Fire will be doornail, and Amazon won't give a damn. That's when you need to come to us.
If your Kindle Fire has stopped charging, RockIT Repairs has got the perfect solution for you. What we do basically is have your entire port replaced, thereby eliminating all issues with charging. For just $59.99, we will have your Kindle Fire fixed and shipped back to you within 24 hours of reception. Our experts have the right solution for every dead Kindle device! So if you have got a Kindle Fire or a Kindle Fire HD that won't work, just give us a call at (540) 412-8824, and we'll be right on to it.