Samsung
Before calling our repair techs, you'll want to find your Samsung's model number. Located under the battery on the phone itself will be a white sticker with various data identifiers that are specific to your phone. Samsung model numbers tend to follow the same format, beginning with three letters, followed by one letter and three numbers, like this:
SGH-x###
SCH-x###
SCH-x###
To get to your model number, you'll first need to turn your phone off. Once it's powered down, remove the back plate and battery, and you'll see the data sticker right on the phone.
You can also find it by going to Settings>About Device>Model Number, so long as your phone powers on and the images are able to be seen.
Here's a list of some of the more common Samsung smartphones we repair: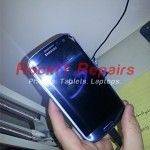 SGH-T999 (T-Mobile)
SGH-i747 (AT&T)
SCH-R530 (Cricket, U.S. Cellular, MetroPCS)
SCH-i535 (Verizon)
SPH-L710 (Sprint, Boost Mobile, Virgin Mobile)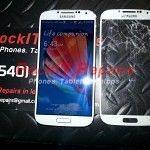 SGH-M919 (T-Mobile)
SGH-i337 (AT&T)
SCH-R970 (Cricket, U.S. Cellular, MetroPCS)
SCH-i545 (Verizon)
SPH-L720 (Sprint, Boost Mobile, Virgin Mobile)
SGH-T899 (T-Mobile)
SGH-i317 (AT&T)
SCH-R950 (Cricket, U.S. Cellular, MetroPCS)
SCH-i605 (Verizon)
SPH-L900 (Sprint, Boost Mobile, Virgin Mobile)